This shop has been compensated by Collective Bias, Inc. and its advertiser. All opinions are mine alone. #PeriodConfidence #TryTheDivaCup #CollectiveBias
Last summer I spent three months volunteering in Africa immediately followed by two weeks of traveling through Europe. So what did I pack?! You may think that I would need to bring a totally separate wardrobe and supplies for the two trips, and although I didn't need my bug spray and mosquito net in France, I was able to easily pack for all of my travels in just one carry on.
This surprises most people. In my teens and college years, I was definitely an overpacker. But as I've gotten older and after purging most of my things, I've learned how to live with less which has helped me a ton when it comes to packing a suitcase!
When you travel light, you can save yourself money and time. You'll have less clothes which means you'll spend less time thinking about what to wear. Plus you'll also be able to fly on budget airlines and not have to pay to check a bag. All of this sounds like a win to me!
But how do you learn to travel with just one carry on? Here are my best tips, learned throughout my gallivanting across 27 different countries.

3 Ways Packing in a Carry On Saves You Money
1. No checked luggage fee.
Most airline companies these days charge extra money for a checked bag. By packing in a carry on only, you'll be saving yourself anywhere from $25 (like Delta and American) to $45 (like Spirit).
2. Can take public transit.
Another benefit to traveling with just a carry on is that you can more easily take public transportation. In NYC, it costs $2.75 to travel from LaGuardia to Midtown via the bus and subway. An Uber Pool is around $25 and a yellow taxi can cost upwards of $80!
3. Can't buy as many souvenirs.
Many souvenirs are cheap, but don't last long after your travels. In the long run, they usually end up being a waste of money. If you're really itching to buy something as a memory, a magnet or postcard are inexpensive and don't take up much space.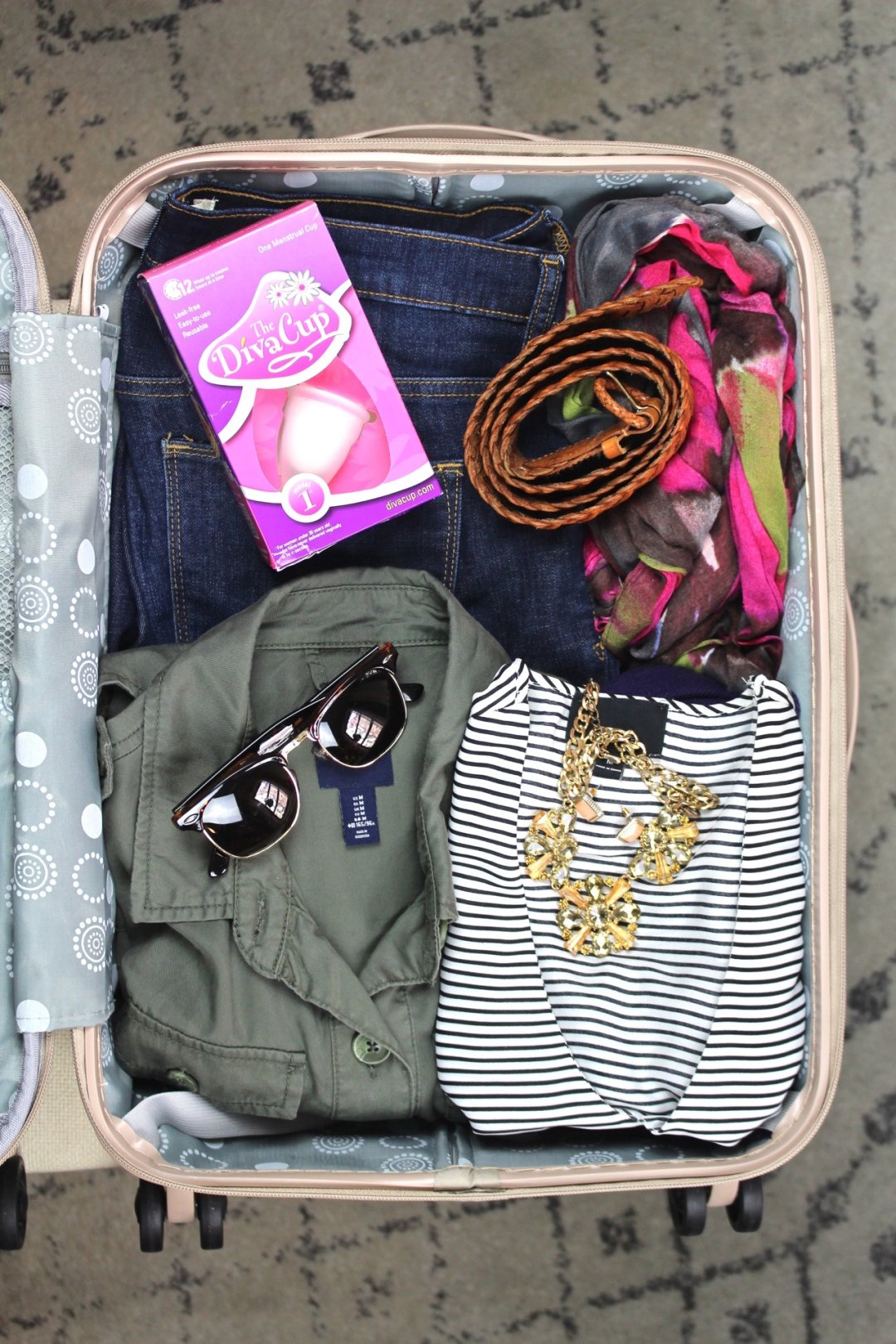 Interested in trying The DivaCup? Click the icon in the bottom lefthand corner to buy one from Target.com!
What to Pack in a Carry On
You honestly don't need as much as you think. Whatever you'd pack for a long weekend can work for a week long, month long, or even 6 month trip!
Clothes
Keep it simple! Think "capsule wardrobe". Pack pieces you can mix and match. Neutral colors are best.
Here is a sample list of what I would pack for 10 days in Europe in the fall.
1 pair jeans
1 pair black pants
1 pair leggings
1 pair workout pants (can double as pajamas)
1 skirt
1 dress
1 jacket
1 cardigan
6 tops (a mix of short and long sleeves, cotton and blousey)
1 pair of tennis shoes/comfortable walking shoes
1 pair of sandals (used also for shower shoes and slippers)
1 pair of flats
1 pair of heels

ONLY pack if absolutely needed. Ideally your flats will be nice enough to take you from day to night.
Accessories
2 pairs of earrings (one gold, one silver)
2 necklaces (one gold, one silver)
1 watch
1 scarf

A must have! A scarf can be wrapped around you as a blanket on a plane or even balled up to make a pillow. It's one of the most versatile things you can bring.

1 belt

One trip for making the same outfit look different is to tuck in your shirt. A nice belt will help accessorize the look!

1 pair of sunglasses
Toiletries
Toothbrush + Toothpaste + Floss
Glasses + Contacts + Contact Solution
Deodorant
Baby Wipes (work for removing makeup and a quick rinse off!)
Minimal Makeup

Clean out your makeup bag before traveling! If you've got an extra tube of mascara, eyeliner your only where on occasion, take them out. Pick two lipsticks and leave the rest!

Small Hairbrush + Hair Accessories + Small-Sized Products

Leave the blow dryers and curling irons at home. Most places you stay will have at least a blow dryer you can use.

Feminine Products (I pack just my DivaCup)
Electronics
Laptop OR Tablet (not both) + Charger
Cellphone + Charger
Headphones
Converter
Note: I own a DSLR camera, but whenever I pack it with me, I find I rarely end up using it because it can get heavy and bulky after a long day of being a tourist. Most smartphones these days have a good enough camera for casual travel.
Hacks for Packing Everything You Need in One Carry On
Bring a scarf.
A scarf is a must when you're traveling because it's so versatile. It can be used as a blanket on cold trains, scrunched up in a ball as a pillow on a bus, worn around shoulders to elevate the look of your tank, and suddenly transform that t-shirt you wore on Tuesday to a whole new look on Thursday. A neutral, solid scarf is best so that it can go with many outfits.
Get creative with your clothes.
Like with the scarf, wearing things different ways will change your look. For instance, a denim chambray shirt can be worn buttoned up with a necklace, unbuttoned and open with a t-shirt under it, or buttoned with a sweater over it for a more polished look. That's one shirt, three ways.
Learn to layer.
If by chance not all of your clothes fit in your carry on, it's time to layer, layer, layer! I will often wear a tank top, t-shirt, button up, jacket, and of course my scarf, while flying. Good thing those flights are often chilly! I also recommend wearing your bulkiest pair of shoes on the day of travel (typically your tennis shoes) to make more room in your bag.
Embrace the bun.
Come up with hairstyles that will work for you WITHOUT needing a blow dryer or curling iron. These items are bulky and can get heavy. The high bun and a simple French braid are my go-tos. A head wrap is also a great option, especially if you haven't gotten to shower recently.
Transfer products to smaller bottles.
If you're not doing this, then you're wasting a ton of space! I seriously have a 3 oz bottle of contact solution that I got for free from my eye doctor nearly 10 years ago that I STILL refill whenever I travel. Just pop off the lid, and transfer the solution from my big bottle I use daily to the little one. This is usually WAY cheaper than buying travel-sized products.
Pack a DivaCup.
This is one of my favorite, and more personal, hacks for packing light. If you'll be traveling during that time of the month, tampons can take up a lot of space in your bag. Instead, I pack just one DivaCup and am good to go.
If you're not familiar with The DivaCup, it's a menstrual cup that's used in place of tampons. I started using it about 6 months ago and haven't looked back. It can be worn for up to 12 hours before needing to be emptied (perfect for long travel days!) and it has also saved me a lot of money. The average cost of menstrual care for the year is $150 while one DivaCup costs just $39.99 and lasts one year (or more!).
If you're interested in trying it, The DivaCup can be found at most major retailers, including Target. Use this store locator tool to find where you can buy one near you.
Make sure to read the User Guide before trying the cup and consult your healthcare provider if you have any questions.
With all of these tips, I hope you'll easily be able to pack in a carry on the next time you travel. I promise you it will be a freeing experience! Less is more when it comes to packing.
What are your best tips for packing light?
Join the newsletter
Learn how to spend less and live more with the Crafty Coin newsletter.
Get my latest posts and tips sent to your inbox!